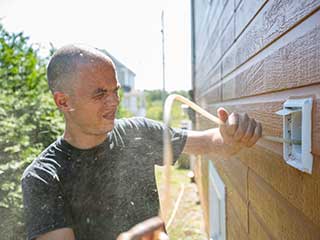 Every homeowner who has a dryer they use on a regular basis continually puts themselves and their family at risk of a fire if they don't have the vent cleaned out regularly. Unfortunately, this means your clothes dryer can become a major fire hazard. The good news is our experts know how to mitigate this danger and ensure the safety of your home and family.
Why is My Dryer a Safety Hazard?
When your dyer produces lint, this gets stuck in the vent and can block air from being able to exit the unit. This causes your dryer to overheat and may cause the highly flammable lint to ignite. Our dryer vent cleaning services will remove this hazard and ensure your dryer is lint-free.
Fires Happen Quickly
Dryer fires happen incredibly quickly, and if you are like the many people who run this appliance when you aren't at home, you won't be able to do anything if the lint happens to catch fire. Our experts know how to get all of the lint out of your vent during dryer vent cleaning, and will make sure you and your home are safe.
You Can't Clean It All
Even if you clean the lint trap each time you use your appliance, the lint will build up inside the unit and in the vent itself. This makes it impossible for the average homeowner to do a thorough job of cleaning out all of the lint. We have the right tools and equipment to make sure there won't be any left after your dryer vent cleaning with us.
It's time to take control of the safety of your family - call our company, Air Duct Cleaning San Francisco, today to set up an appointment. We know how to get your vent perfectly clean and will work hard to ensure that your dryer is lint-free and safe to use.