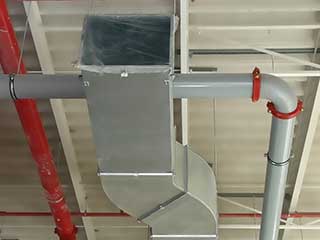 Industrial air ducts are a great solution for circulating air throughout your place of work, filtering contaminants from it as well as regulating indoor temperatures to ensure that your employees can enjoy a temperate and contaminant free workspace. However, when your vents start to take on too much dirt, it may not only affect their performance and energy consumption, but can also lead to the spread of unwanted particles and contaminants in the air which often result in head colds, sore-throats and a variety of other illnesses which lead to employee downtime. With so many reasons to make sure that your ventilation systems are free from contaminants, you'll want a partner like Air Duct Cleaning San Francisco to assist you with keeping your air ducts clear and properly sanitized. Here are a few of the services that we offer which will make your place of work a germ free and economic place to be:
Indoor Air Quality Inspections
Our technicians can assist you with determining whether or not your office's ducts need sanitizing by measuring the number of contaminants in your office's air. When vents get clogged, it often results in a lowered quality of indoor air, which could lead to illnesses, unsavory smells and higher power costs when operating your vents.
Commercial Air Duct Cleaning and Sanitizing
With so many people coming and going through your place of work, the task of keeping the air within your offices free from contaminants requires a professional hand. When your vents get bogged down by dirt and debris, it could lead to the spread of mold and contaminants throughout your workplace, affecting your employees' health and making your business an unsavory place to work. But with the assistance of our commercial air duct cleaners you can have your ducts properly sanitized for better performance, economy and health.
Dryer Vent Cleaning
For those businesses, such as hotels, laundromats and dry-cleaners who rely heavily on dryers, ensuring that their ducts are clean and clear of lint and debris is essential. Speak to one of our technicians for more information on our dryer duct services to clear their vents and keep them working as they should.
So, if you are looking for the right commercial air duct cleaner to assist you with raising the indoor air quality in your place of work, be sure to contact a technician from Air Duct Cleaning San Francisco today for more information on our services and pricing. We are waiting for your call.